Top Horizontal Bread Machines You Can Buy Now
"This site contains affiliate links to products. We may receive a commission for purchases made through these links."
In a hurry? Our top pick for best horizontal bread machine is the Zojirushi BB-PDC20. It's features, automatic settings, and durability make it our top choice. 
Everyone loves bread, some like it store-bought while some stick to baking their own. They believe in freshness and the quality of bread – and most importantly, the delicious aroma it fills your entire room with.
If you want to stay true to your bread making skills, then we are here to help you find a horizontal bread machine. What most people don't realize is that bread can be of different shapes and sizes. With baking, you can get any shape or any size you want.
However, most store-bought loaves of bread that we use are baked vertically for the simple reason that those machines use less space. But whether you are baking at home or running a small business, horizontal baking machines should be your first preference.
Bread machines can be tricky to find as one can't tell how your bread is being baked just by looking at the exterior of it, but luckily we have compiled a list for you based on the feedback from our customers.
Starting with our best ones:
1) Zojirushi BB-PDC20
Sale
Zojirushi BB-PDC20BA Home Bakery Virtuoso Plus Breadmaker, 2 lb. loaf of bread, Stainless Steel/Black
Various healthy course settings include Multigrain, Whole Wheat, Rapid Whole Wheat, Gluten Free, Salt Free, Sugar Free and Vegan
Double Kneading Blades thoroughly knead dough for superior results; Dual heaters on the bottom and lid of the bread maker promote even baking and browning
Rapid courses allow you to bake a loaf of white or whole wheat bread in just 2 hours and 25 minutes
Large, easy-to-read LCD display with convenient key code on lid simplifies course selection; RAPID SETTING: Use Rapid setting to have your loaf ready to eat in under two and a half hours
Electrical Rating 120 volts / 700 watts.Cord Length:39 inch
Last update on 2023-09-09 / Affiliate links / Images from Amazon Product Advertising API
This machine bags the first place on our list. BB-PDC20 saves you from the hassle of kneading, as it comes equipped with dual kneading blades that thoroughly knead the bread. Moreover, it offers a variety of pre-programmed settings that allow you to do a variety of things but the three settings that we love the most are.
Gluten-free bread: We know that baking gluten-free bread can be a difficult task, but Zojirushi does it so well. According to some customers, it tastes better than regular bread.
Vegan bread: It even has a setting for a vegan bread course that lets you replace milk with unsweetened almond milk and add olive oil instead of butter.
European course: This one allows you to bake fancy, savory loaves of bread like cheese or herb bread like basil and tomato.
Moreover, this traditional bread maker is a real time-saver as it doesn't require you to wait for the ingredients to come up to the right temperature; it's programmed to do that for you. It's as easy as putting the ingredients in and pushing the desired buttons to get your delicious, warm bread.
Another reason why we absolutely love this is because of the double heating lid and the bottom. The heating lid gives your bread a crusty, toasty look that we all like.
2) Zojirushi BB-CEC20
Zojirushi BB-CEC20 Home Bakery Supreme 2-Pound-Loaf Breadmaker, Black
Dual-blade bread machine makes rectangular-shaped 2-pound loaves
10 pre-programmed settings; 3 crust shades; LCD control panel; 13-hour delay timer
Large viewing window; removable nonstick bread pan for easy cleaning
Measuring spoon, measuring cup, and user manual with recipes included.Measures approximately 9-5/8 by 17 by 12-1/5 inches
Electrical rating:120 volts / 700 watts
Last update on 2023-09-08 / Affiliate links / Images from Amazon Product Advertising API
This line cannot disappoint you as they put enough thought and effort into their horizontal bread machine, which reflects in their products. An earlier model of Zojirushi BB-PDC20 which operates more or less the same way. This model makes you part of the process. You can see your bread rising to the scrumptiousness as it comes with a large viewing window.
It is also a reliable, well-built machine. Fortunately, this too comes with dual kneading blades, stainless steel body, and a removable bake pan. However, the only thing that's missing is the revolutionary heating lid that does not come with this model. So if you like your loaves of bread light and soft, then this is your best bet.
Another thing that's worth mentioning is that Zojirushi makes the best gluten-free bread as it's programmed to handle the thick gluten-free dough.
3) Panasonic SD-YD250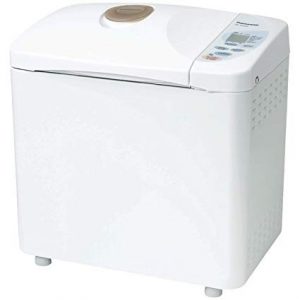 A slight twist on the traditional way of baking, this one features a tall baking pan that will make your loaves a little taller than usual. But it comes with the amazing its automatic yeast dispenser. It means you don't have to open the lid which keeps the heat trapped inside and the baking process remains consistent.
Panasonic SD-YD250 is built to dispense yeast at the right time. It can bake from 1.5 to 2.5 pounds of bread despite its small size. With a width of only 9 inches, it can comfortably fit on your kitchen counter without taking too much space.
The machine comes with five modes:
Bake only
Rapid bake
Raisin
Sandwich
Pizza
It allows you to bake six different choices of dough and three crust colors. The inner pan is non-stick, which enables the bread to slide off when done. It is light on your pocket as well. With the functions it performs, it's quite an affordable option.
4) T-fal PF311
T-fal Bread Machine, 14.02 x 12.52 x 16.06 inches, Stainless steel
Gluten free bread maker with 15 programmable settings: Gluten free salty, gluten free sweet, gluten free cake, rapid whole wheat, whole wheat, salt free, super rapid, rapid sweet bread, french, sweet, cooking, dough, cake, jam, and pasta
3 loaf sizes (1, 1.5, or 2 pounds); 3 crust settings (light, medium, or dark); 700 watts of power
Digital LCD display with indicator light; Delay start upto 15 hours; Automatic keep warm
Brushed stainless steel housing with black accents; Top loading lid with display window; nonstick coated inner pan and handle for easy cleaning
Includes measuring cup and spoon, hook, kneading blade, and recipe book with 25 recipes
Last update on 2023-09-08 / Affiliate links / Images from Amazon Product Advertising API
Unlike the Panasonic SD-YD250, this one bakes bread a little shorter in length. It can bake as little as one pound and goes all the way up to a two-pound bread. You can choose to do a lot with it as it comes with 15 pre-programmed settings with an option to bake gluten-free cakes as well!
Moreover, if you're into French bread with thick crusts and denser loaves, then this machine does a fabulous job.  It's safe and affordable, which makes it a good option for many people.
5) Cuisinart 
Sale
Cuisinart CBK-200 Convection Bread Maker, 12" x 16.5" x 10.25"
16 preprogrammed menu options, 3 crust colors, and 3 loaf sizes offer over 100 bread, dough/pizza dough, sweet cake and jam choices.
Low Carb and Gluten-Free preset menu options and recipes. A Cuisinart exclusive!
Special menu option takes basic dough through several long, slow cool rises for chewier textures and rustic crusts.
Unique convection feature circulates air for superior crust color, and texture. BPA Free
Audible tone indicates time to add fruit, nuts and other "mix-ins." Second tone offers option of removing paddle before baking, or removing unbaked dough to shape by hand.
Last update on 2023-09-08 / Affiliate links / Images from Amazon Product Advertising API
Cuisinart CBK-100 is a basic machine that is ideal for small families as it bakes one-pound bread but can go up to two pounds as well. While it relies on you to do most of the tasks, it does have an alarm to let you know what it needs.
Moreover, this horizontal bread machine handles extra ingredients really well like cheese, nuts, fruits, seeds, etc. You can add them after the five beeps.
Wrapping up
Our top pick for the best horizontal bread machine is the Zojirushi BB-PDC20. This bread machine may be on the pricey side, but it's an extremely effective kitchen appliance that's durable, easy to use, and makes delicious bread.
Go with the Zojirushi and you can't go wrong!