What is the best inexpensive, quality bread machine on the market?
"This site contains affiliate links to products. We may receive a commission for purchases made through these links."
Are you looking for an inexpensive yet high quality bread machine? We have seen a growing trend towards more organic and home-based products. The only issue that comes with this is that natural and home-made things can be expensive and time-consuming. You can say that the practice of baking bread at home isn't new, which is true. However, the only difference is that we have run out of time and patience.
No one wants to spend a lot of time baking fresh bread every day. We have built machines to do this job, and they seem to do it really well. Better than most of us, at least. We have compiled a list of bread machines, and the best part is that they won't cost you a limb and a half either.
Oster CKSTBRTW20
Grab yourself an Oster CKSTBRTW20 for just $60. But that's not the ONLY great thing about this machine. You must be wondering that this bread machine would do a simple job of baking a basic bread, but you're wrong. This affordable breadmaker can handle gluten-free bread, as well as special breads, jam, dough, and other pastries with ease.
Surprisingly, Oster CKSTBRTW20 performed way better in comparison to other brands. Your hundredth loaf of bread is guaranteed to look and taste as amazing as the first one. It's easy to use, easy to clean, and does the job efficiently and quietly.
Unfortunately, the only thing that we have to compromise on is the design. If we really had to find a fault, it'll be the design. If you are big on aesthetics, then this machine would not be so visually pleasing for you. The body seems flimsy so you'd have to handle it with a little bit of extra care. However, if you get past this then this bread-maker is definitely worth it.
Hamilton Beach 29881/29882
The second best that we recommend is the Hamilton Beach 29881/29882. People who are calorie conscious should gather around as this product is for you. This breadmaker was built with nutrition in mind; hence it can bake delicious whole grain bread. It does other things as well, but this is definitely its forte.
It is quite affordable too. You can get this outstanding bread machine for only $60. It is inexpensive considering how high-priced whole-grain breadmakers can be. If you want something good but don't want to splurge, then this is your best pick. You can even choose what color you want, unlike most companies that stick to white only. Hamilton beach 29881/29882 comes in two colors; black and white. Pick what looks best with your kitchen.
Sunbeam 5891
Sunbeam Programmable Bread Maker, White
Bakes up to a 2 lb loaf of bread
13 hour delay bake and 12 baking functions
Express Bake cycle
Push button control panel with LED display
Non stick, removable baking pan
Last update on 2023-11-08 / Affiliate links / Images from Amazon Product Advertising API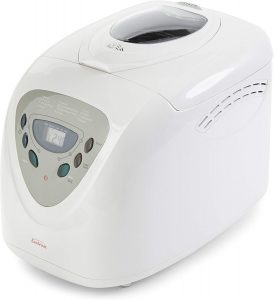 It is an excellent breadmaker; however, due to fierce competition, we had to rank it at number three. Sunbeam gets the job done just right. One of the features that we like the most is the express function which takes only one hour to bake a loaf of bread. It gives your bread a light brown crusty color that makes it beautiful to look at as well.
Some people claimed to buy Sunbeam 5891 for $40 online while some even got it for as low as $15 from their local stores a few years ago. Although, it seems that since that time it has gained popularity because we couldn't find anyone willing to sell it to us for this much. Fortunately enough, even now it isn't on the pricer end. You can easily purchase it for $60-$75, making it an affordable model.
Perhaps, the only thing that troubled us was the weight of this breadmaker. It is really lightweight, which doesn't make it sturdy enough. Due to this, it tends to move a bit too much as well so you would have to be careful while handling it. Make sure it doesn't fall off the counter. However, you will be satisfied with the price you are paying.
Cuisinart CBK-100
Sale
Cuisinart CBK-100 2 LB Bread Maker,Compact Automatic
Programmable bread machine bakes 1-, 1-1/2-, and 2-pound loaves
12 preprogrammed menu options; 3 crust settings; 13-hour delay-start timer
Viewing window; removable lid, pan, and paddle for quick cleanup
Stay-cool handles; measuring cup, measuring spoon, and recipes included
Product Built to North American Electrical Standards
Last update on 2023-11-07 / Affiliate links / Images from Amazon Product Advertising API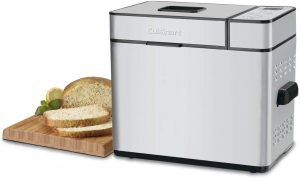 We were skeptical about adding Cuisinart CBK-100 to the list not because of the performance but because of the price. If you have the liberty to stretch your wallet a little more, then you can get this beauty for $100. Cuisinart CBK-100 is rectangular machine made with shiny stainless steel, which makes it appear as one of the high-end breadmakers. It comes equipped with handles that make it easier for you to carry it. The machine has beeping alarms. It will indicate you so that you can add fruit and nuts to make it fancier and healthier. On the functional spectrum, it performs really well.