"This site contains affiliate links to products. We may receive a commission for purchases made through these links."
If you look around, you will see hundreds of bread machines with advanced features, which sometimes makes it hard to choose the top-rated machine. If you are looking for a bread machine that best suits your needs, then you've come to the right place. We have made a list of the top-rated bread making machines to help you with your bread machine buying process.
Let's start with the list!
Our Top Picks for Bread Machines
Hamilton Beach Programmable
Hamilton Beach is a well-built bread machine with a sturdy-looking exterior. It comes equipped with a user-friendly display system controlling all essential features.
It has 12 different programming options along with three crust types; light, medium, or dark. Two sizes are available for the loaf along with two kneading paddles, which add to the taste and shape of the bread.
With its non-stick interior, not only is your Hamilton Beach machine safer, it makes a perfect loaf with good texture and taste.
Rating: A cumulative of 12,000 reviews for the machine lead to an Amazon rating of 4.25 out of 5, which is pretty decent.
Sunbeam Programmable Bread Machine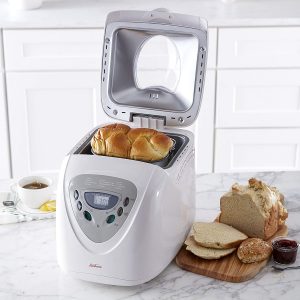 When it comes to the size of the loaf, Sunbeam bread machine offers three standard sizes; 1 lb., 1.5 lbs., and 2 lbs., which pretty much cater to almost everyone's needs. This bread machine has three different crust options and 12 programmable menu options.
It has a delay-timer of 13 hours, which is more than needed when it comes to convenience. Sunbeam programmable bread machine has an eye-catching display with buttons allowing essential functions to be controlled with ease. Its parts are removable, which means it won't be a hassle to clean it, unlike some other renowned bread machines.
Rating: It has an Amazon rating of 4.4 out of 5 based on around 1900 reviews.
Zojirushi Virtuoso Bread Machine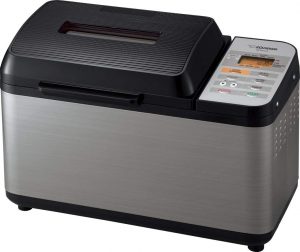 Zojirushi is quite popular among customers due to its high number of reviews and has excellent evaluations, thus giving it the highest rating.
Although it produces only one size of bread, it makes it in the good old conventional rectangular shape. A fantastic feature is that it has the option to cater to the gluten-free market.
Zojirushi Virtuoso bread machine has its precision in product's shape, texture, and taste because of two unique features; 'two kneading blades '(which mix better and make better dough) and an 'extra heater' which is on the lid, so it helps in the even baking of bread and the slight golden tinge on the top.
Flexibility: It has three different menu options and comes with a DVD of tailor-made recipes.
Rating: It has a well-deserved rating of 4.5 out of 5 on Amazon, out of around 1,700 reviews.
Cuisinart CBK-200 Bread Maker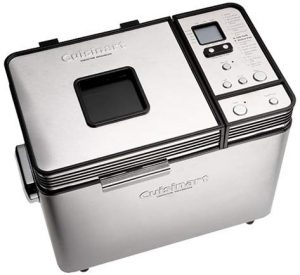 Cuisinart CBK-200 bread maker has a very sophisticated design that goes with its premium positioning and function. The first thing you might notice would be the 'convention fans' that work on automated stimuli and timing thus, making the perfect bread loaves.
It has three different crust types, along with various bread types like gluten-free. Cuisinart CBK-200 has over 16 different programming options. It can make dough for pizzas and cake too thus, increasing the chances of customization.
Some basic notifications like that of the timer are audible to ensure perfect baking time and final output. Other than that, it also has a delay-timer option.
Rating: It has an Amazon rating of 4.25 out of 5, based on 1,200 consumer reviews.
These were some of the best machines available in the market. You can narrow down your options based on your requirements and make an informed decision. However, these machines are all exceptional at making the best bread, and you can buy them at a reasonable price.